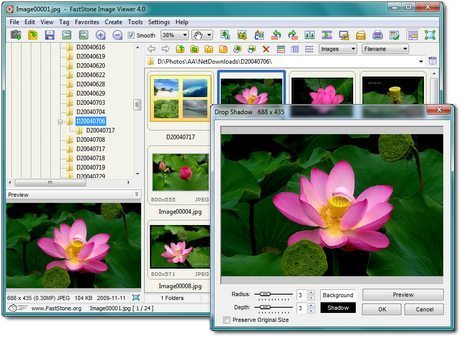 In this digital photography era, I believe many of us want a quick solution to resize, put a watermark or text on every photos before uploading to Internet whether through Facebook, Blogs, Flickr or other sharing sites.
Uploading the original photos are not preferable due to the size of each photo is big. It gonna take hours if you want to upload many photos. In addition, some prefer to have watermark or text on the photos to show that it is belongs to somebody. Yes, you can do it in advance way by setting up batch program in Photoshop. But there is simpler and faster way by using FastStone Image Viewer.
STEP 0
Download and Install the FastStone Image Viewer
Alternate Link: FastStone Image Viewer 4.5
STEP 1
Once installed properly, you can see "Browse with FastStone" when you right-click on any folder.
STEP 2
Select the folder/image that you want to convert.
STEP 3
Go to "Tools > Batch Convert Selected Images" or simply press "F3".
STEP 4
Ensure the desired images/folders are in the Input List. Also, ensure tick "Use Advance Options" and click "Advance Options" to customize.
STEP 5
You may try the customization as follows.
STEP 6
Click "OK" and Click ">Convert". The progress window will come out.
Below are comparison of before and after:
This is only a simple example. This software can do batch color adjustment and you can even design your own logo and put it in every photos as watermark in just few clicks.
This software also capable of doing various type of photos editing. Just hover your mouse at left side of the screen during full-screen view and this tools will pop-up:
I'll let you explore more of this wonderful software!
:: aerobrainTech ::